Do you keep your iPhone in the refrigerator every now and then to cool down your over-heated iPhone? Well, it's not a smart thing to do!
In this article, I will thoroughly explain the reason behind the over-heating of the iPhone and the ways through which you can fix it.
Why my iPhone Gets Hot?
Your iPhone can generate excessive heat due to certain factors. Your iPhone is like a pocket computer that you carry with you everywhere and every time. Like a computer, it also has a CPU, but unlike computers, it does not have any cooling mechanism.
Moreover, we use iPhones more than our computers. For example, to make college/university assignments, to take pictures, play games, watch videos, etc. Computers have fans to cope with heating problems, while iPhones don't have anything like this, even though we use iPhone much more than computers.
Therefore, iPhones are more likely to get hot. You need to determine the real cause due to which your iPhone is getting hotter abnormally so that you can fix it accordingly. Following are the possible reasons that explain why your iPhone is overheating?
When you use and charge iPhone simultaneously, it can generate excessive heat.
When you overload hardware by watching high-quality videos and playing heavy games for a longer period of time i.e., more than four-five hours.
Not turning off your Location services for a longer period of time.
Not closing your recent apps.
A faulty or damaged battery can overheat iPhone while charging. A damaged battery also has a diverse effect on the overall performance of the iPhone. Apps start running slowly and the camera becomes unresponsive many times.
Hot climate; temperature above 35 degrees Celsius is not favorable to iPhone.
Corrupt apps.
Determine whether your iPhone is overheating or getting warm
Getting warm and getting excessively hot are two completely different dimensions. For example, your iPhone gets a little tepid after playing too many games or watching high-quality videos. It's not a big concern.
But, when it gets too hot that apps start running slow and the camera doesn't click pictures, then it is a concern. Your iPhone also gives you a temperature warning pop-up in such a situation.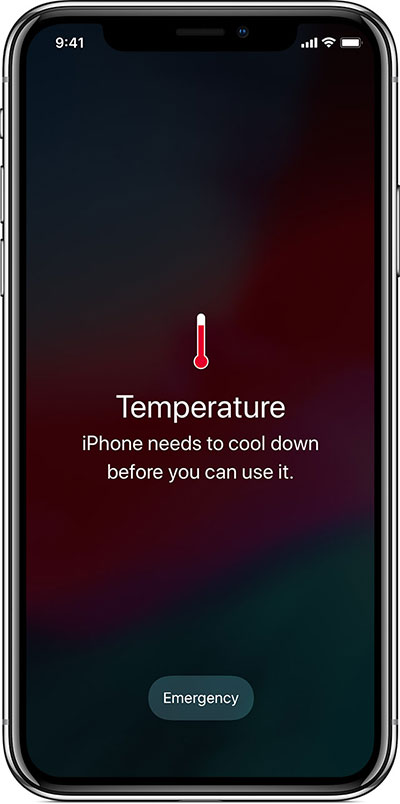 Apple has designed iPhones in such a way that they behave perfectly when the temperature is between 0 degrees Celsius and 35 degrees Celsius.
When the temperature surpasses this limit, it becomes very unfavorable for iPhone to behave normally. As a result, it starts getting hot so fast. Continuous exposure to hot climate also affects battery adversely, and your iPhone starts lagging over time.
How to Fix Your iPhone When It's Getting Hot
There are several tricks and ways that can prevent your iPhone from overheating. Follow the below-given method to fix your Overheating iPhone.
Make sure iPhone's battery is not damaged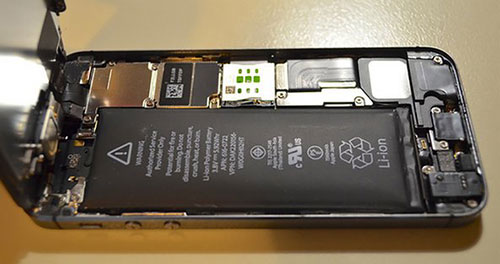 Overheating can also be a result of a damaged battery. Apart from overheating, a damaged battery can your iPhone further. Therefore, if your iPhone is releasing too much heat, take it to an Apple repair shop for inspection of the battery. They will fix your problem skillfully, and you will get your iPhone back in its finest condition.
Determine if your charger is not causing the problem
If your iPhone gets hot during charging, it means that your charger is the culprit. Many chargers in the market are not certified by Apple. You can purchase them at cheaper rates, but they can harm your iPhone.
Therefore, get rid of your older charger and purchase an MFI certified charger. MFI is an abbreviation for 'Made For iPhone'. Such chargers have matched the standards of Apple and are safe to use.
Close all Recent Apps
Apps running in the background consume a lot of battery and overburden hardware. Therefore, give your iPhone some rest by closing all the background apps. In order to close recent apps, follow this process:
If you have an iPhone with the physical home button, then double-click the home button. It will bring all recent apps to your iPhone screen. Now, swipe apps one by one to close them.
If you have an iPhone without a physical home button, then swipe up from the very bottom of your screen. All recent apps will show on your screen, swipe them to close.
Uninstall the Faulty Apps
Have you noticed that your iPhone had started getting hot after installing a particular application? If so, then it means that there is some problem with that application. Uninstall that app to fix your problem. You can also make use of iPhone's built-in system to detect offensive app:
Launch Settings and hit Privacy>Analytics & Improvements>Analytics Data.
You will see a list, find any app that is appearing again and again. If you find one; delete it, because it is the defective one.
You can also find the faulty app by yourself by checking the battery usage of apps. Go to Settings and click on the Battery. Next, scroll down to see the list of apps and their battery usage. If any app is consuming a lot of battery, then delete it to see if it fixes your problem.
Similarly, also check how much storage one app is consuming. Go to Settings and launch General. Now, click on iPhone storage to see a list of apps with their storage consumption. If you see anything out of the box with any app, uninstall it.
If you don't want to uninstall a certain app, try uninstalling and reinstalling it.
Update outdated Apps
Older apps drain your iPhone out of power, hence causing overheat. New updates always come with improvements fixing bugs and glitches. Therefore, update all apps that you have on your iPhone.
Open App Store and click on your display picture in the upper right corner. You will see a list of apps that you need to update. Click on Update All to set update in action for all apps.
Update your iPhone's software
Make sure you are not using outdated software with bugs that are making your iPhone hotter. Software updates fix many bugs, flaws, and glitches, hence solving your many issues.
Look for pending updates by opening Settings>General>Software Update. If you see pending updates, connect your iPhone to strong Wi-Fi and download it.
Reset your iPhone's Settings
Sometimes your iPhone's problematic setting can also cause overheating. Resetting iPhone's settings will also troubleshoot your iPhone fixing your problem.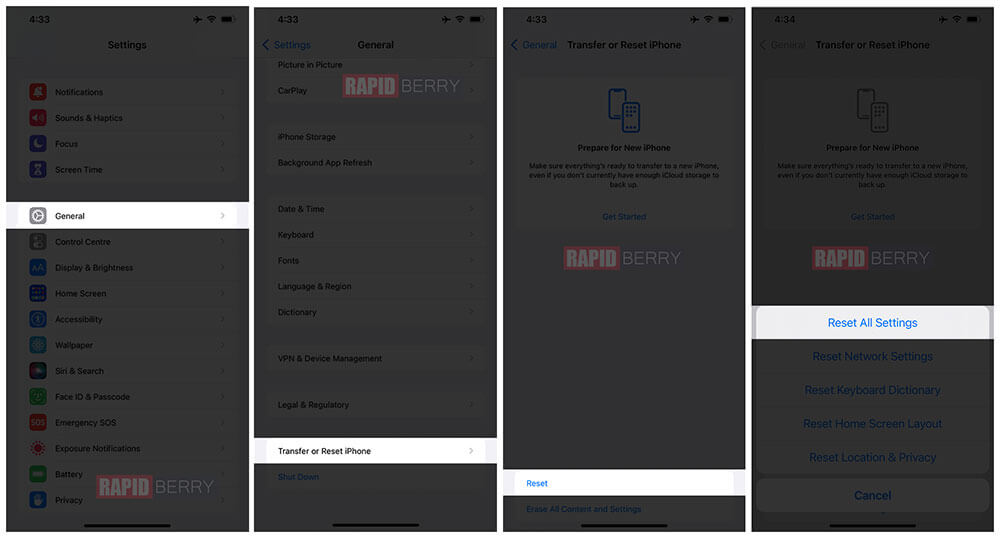 To reset your iPhone's settings, follow the instructions:
Head to Settings and open General.
Scroll down, and click on Transfer or Reset.
Click on Reset.
Now, click on the Reset All Settings
Try a Factory Reset
Are you still facing the same issue despite resetting your iPhone's settings? Complete reset to factory settings is your next option. It will troubleshoot and recalibrate your iPhone, fixing deeper software flaws and glitches.
This process will rub out your all content and data. Thus, make sure to bake up your content to iCloud before the reset.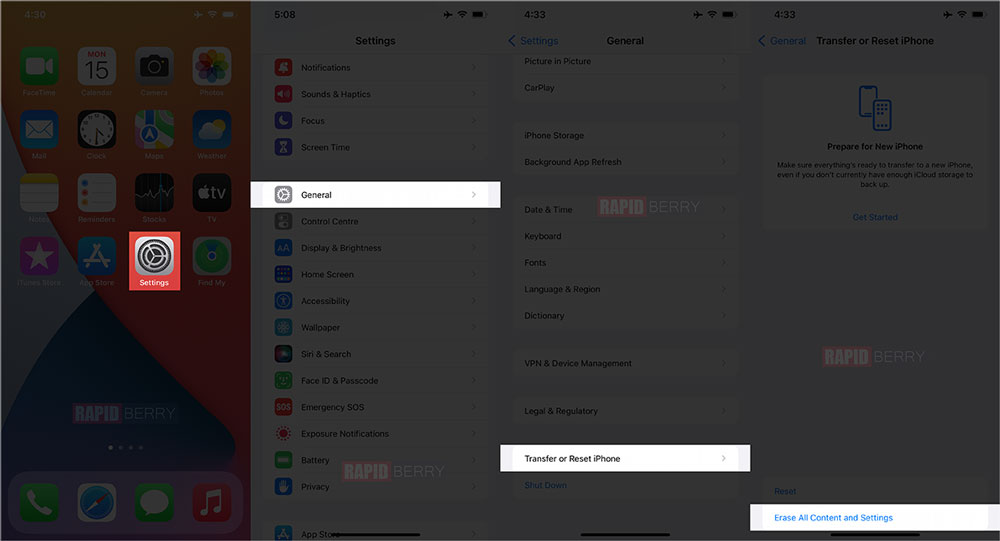 To proceed, start Settings; tap on General. Now head to Reset and click on Erase All Content and Data. Your iPhone will reset to its factory settings. When you will turn it on again it will start by saying Hello in different languages.
You should also try DFU restore, to update the firmware of your iPhone. It is the most intense reset to your iPhone. You can DFU restore your iPhone by using iTunes or Finder.
You will need a PC if you are using iTunes, and MAC if you are using Finder. DFU restore will rub out your data, therefore make a backup before commencing the process. Follow the steps given in this Apple's article to restore your data from iCloud backup.
Unburden your iPhone
Your iPhone gets hot due to excessive workload. Therefore, try switching off Wi-Fi and location services. Minimize the brightness of your iPhone, as high brightness for a longer period, can cause overheating.
You can minimize brightness from the control center by sliding the brightness slider downwards. Similarly, you can turn off Wi-Fi by tapping on the Wi-Fi icon from the control center.
Check your Wi-Fi connection
A poor Wi-Fi network can also be the cause of overheating. Due to poor connection, iPhone burdens its hardware in search of signals. Therefore, make sure your Wi-Fi connection is not the problem maker.
Protech iPhone from the Sunlight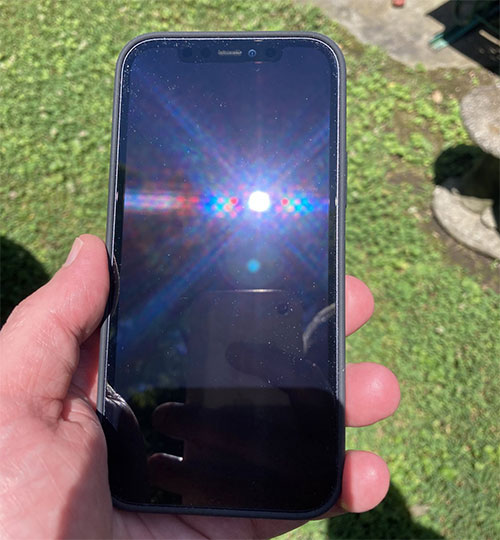 Ask yourself that when your iPhone starts getting hot? If the answer is "in the sunlight", then it means that your iPhone is getting hotter due to high temperature. Therefore, turn off your phone and take it to a sheltered place so that it can cool down.
To turn off iPhone with a physical home button press and hold the side button until the power off option pops up. If your iPhone does not have a home button then press and hold the side button and the volume button until the option appears.
iPhone is designed in such a way that it does not work perfectly in high temperatures that reach over 35°c, especially if you using are heavy apps such as Maps and games. Therefore, try not to take your iPhone out in the direct sunlight.
Conclusion
Hopefully, now you have learned how to fix the overheating problem of your iPhone. So, try the above methods rather than keep your iPhone in the refrigerator, for it can damage your iPhone further.