Sometimes we can't restart our iPhone due to malfunctioning of power or side button. And if you are here because of the same problem, then don't worry you are not alone. Many other iPhone users face the same problem.
Either they break the side button of their iPhone by dropping it somewhere, or it gets jammed due to overuse, etc. consequently, they can't make use of the physical side button to restart their iPhone.
But, don't worry there are several other means of restarting your iPhone as well. And in this article, I will cover all those means through which you can restart your iPhone without using the power button.
Why do I need to restart my iPhone without a power button?
Sometimes notifications stop working on our iPhone; other times our iPhone gets stuck on the Apple logo or a particular App. As iPhone users, we can face such minor problems every now and then. And, simply, restarting our iPhone can help us get rid of all those problems, as it clears all minor software flaws, glitches, and bugs.
Hence, restarting your iPhone from time to time is a crucial habit that everyone should adopt. Experts suggest that we should restart our iPhone at least one-two time a week. It will keep our iPhone refreshed and free of software bugs and glitches.
But how can we restart our iPhone with a non-functional power button? Don't worry, without waiting further, let's discuss other alternatives and ways of restarting your iPhone when the power button is broken or damaged.
How to Restart iPhone without Power Button
1. Restart iPhone via Assistive Touch
You can also restart your iPhone just using Assistive Touch if it is running iOS 11 or later software. So, make sure the latest software is updated on your iPhone.
Head to Settings and click on General. Next, click on Software Update. If you see any pending updates, connect your iPhone to a strong Wi-Fi network and install and download that update.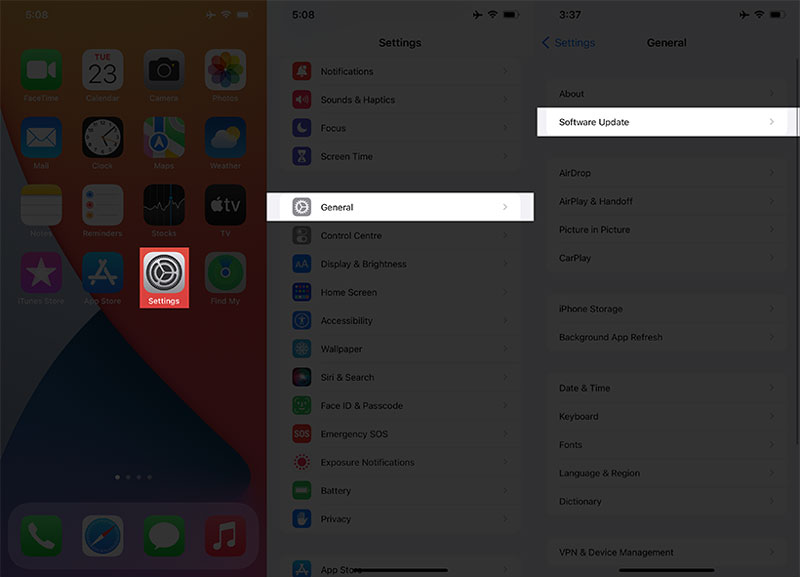 Follow these steps after updating your iPhone to iOS 11 or later software:
Tap on Assistive Touch


Next click on Device


Then click on the More icon


Next, click on the Restart icon


A confirmation popup will appear, click again on Restart


Finally, It will restart your iPhone in about 30 seconds.
How to enable Assistive Touch on your iPhone, read this article.
2. Restart iPhone via Resetting Network Settings
This is another smart way of restarting your iPhone is by resetting its settings, as iPhones are designed to restart automatically when you reset iOS settings. So, here you should go for resetting Network Settings, as it is of the lowest risk and it will get your goal accomplished. Hence, if you are ready, follow these steps:
if you are running iOS 15: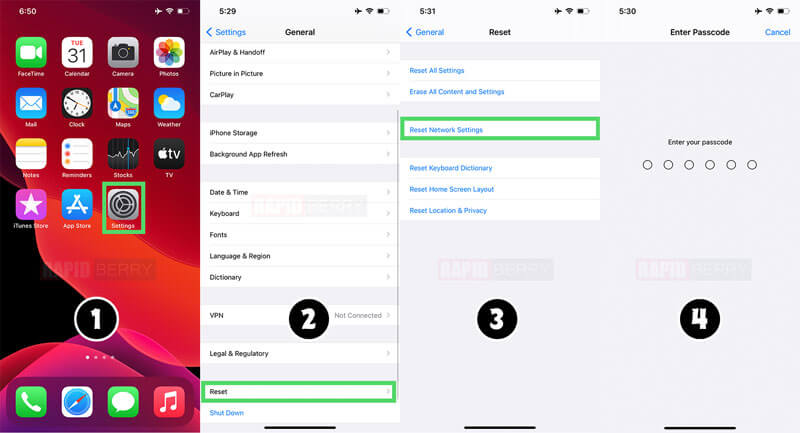 Go into Settings

Choose General
Next, scroll down and choose Transfer or Reset iPhone.
Then, choose Reset
Finally, click on Reset Network Settings
If you are running iOS 14 or older:
Head to Settings and tap General
Then click on Reset at bottom of the screen, and finally choose Reset Network Settings.
IMPORTANT!
After Resetting Network Settings, your iPhone will
Erase
all stored
Wi-Fi passwords
and
paired Bluetooth devices.
3. Restart your iPhone via Settings
You can easily restart your iPhone via settings if it has an iOS 10 or later operating system. First and foremost, the thing to do here is to turn off your iPhone, second is to turn it back on.
To turn off your iPhone:
Head to Settings


Choose General


Scroll down to the bottom of the screen and tap on Shutdown


Now the power off slider will pop up on your screen, drag it from left to right to finally shut down your iPhone.

Once your iPhone is turned off, connect it to a power source by inserting a lightning cable. It will automatically turn on your iPhone. Hence, this way you will successfully accomplish your goal of restarting your iPhone.
4. Restart iPhone by Enable the Bold Text
This is the easiest and working method to restart your iPhone without a power button. You just need to enable the bold text option on your iPhone, and iPhone will restart automatically. Apple bold text feature will give you more readability.
Follow these setup to Enable Bold Text Feature:
Tap on Setting


Now, Click on General


Tap on Accessibility


Turn on Bold Text


A pop will be appearing there you see iPhone says "Applying this setting will restart your iPhone"

Click on Continue for confirmation

Wait for a few seconds, when the apple logo will appear it's mean your iPhone is restarted now.
Bottom line:
Hopefully, now you how to restart your iPhone via Settings and Assistive touch if your power or side button is broken or frozen. However, you are unhappy with your digital button, or if you don't want to go into Settings just to restart your iPhone, then get your side button repaired professionally.
Their technician will handle the matter skillfully, and you will get your physical side button back. Start by setting up an appointment at your nearest Apple Store. It will be free of charge if your iPhone is still covered by a warranty.