Are you attending a zoom meeting? or discussing something important on phone with friends?  And your iPhone keeps disconnecting from Wifi? Don't worry you are not the only one who is facing this problem. Many iPhone users have reported this issue.
Even not only iPhone users but also users of Other iOS devices like iPad or iPod touch face this problem. Don't worry, in this article, we will discuss why does our iPhone keeps disconnecting and how to fix it.
iPhone Keep Disconnecting From WiFi | How to Fix
Before going into further details few simplest but important steps:
Make sure your iPhone is not on the airplane mood.
Check it out your wifi is your own and you are connecting to the right wifi.
If there is any IOS update available install it.
1. Turn off and on Wifi
Their many simple tricks by that you can do your job. By continuous use of device and wifi minor connectivity glitch might occur that keeps disconnecting your iPhone with wifi.
Go to Settings


Tab on the Wifi


Turn off the wifi switch in the upper right corner and wait a while.

Tap the switch again and turn the wifi on.

2. Forget WiFi Network & Reconnect
As usual, we keep our iPhones on auto-join mood so your iPhone keeps the information about your networks. Because many people like me found it really difficult to connect iPhone to wifi again and again. We can fix it by just forgetting your current wifi from the device by this device will remove the network from your networks.  Then join it again.
Go to the Settings


Tab on the Wifi


Now you will see information mark (i) with your wifi network tab on it.

Finally "Forget This Network" will appear on-screen tab on it.

Then join the network again.
3. Keep Your iPhone In Wifi Range
If you are not in the range of your wifi network then your iPhone will keep disconnecting. Sometimes it happens that we use our iPhone while walking and we get out of the range without knowing that and our iPhone keep disconnecting. So, making sure that you are in the range of your wifi is really important.
4. Renew Lease in Wifi Settings
As I said earlier there are many hidden settings in your iPhone which can solve your issues we just need to give them a try. I think you should give a try to lease renewing updates the address information of your network.
Open the Settings app.

Tab on the Wifi.

Tab on the information mark (i) with the name of your network.

Slide down until you see Renew Lease.

Tab on it.
5. Reset iPhones Network Settings
Still not working? Try this one. resetting the iPhone Network setting is one of the most effective ways to solve this issue. When you will reset your network setting your device will erase all the information related to network, Bluetooth, and VPN settings like network password and list of saved wifi networks it means you'll have to reenter the wifi password, reconnect to Bluetooth, and setup VPN again. Here we go: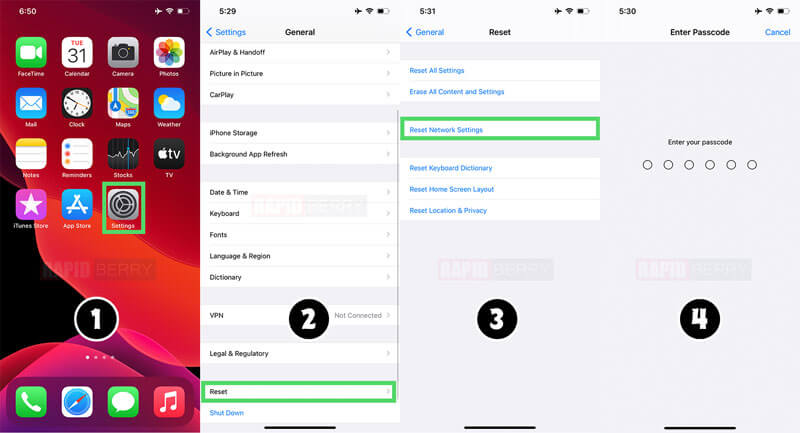 Open the Settings app.
Tab on the General.
Go down in the list until you see the Reset tab on it.
Tab on the Reset Network Setting
It will ask for a passcode to enter it. Then tap on Reset Network Setting.
Wait until the reset process is completed.
Then connect your device to the wifi network again . Hope it fixes your disconnecting issue.
6. Restart Your iPhone
Sometimes just restarting your iPhone can solve your bigger problems. Because turning off iPhone and then turning it on again can fix minor software problems. By restarting your iPhone you can shut down the problems and start fresh when it's on. who else doesn't know how to restart iPhone. If you don't know don't worry here you go.
7. Unplug Your Wifi Router And Plug It Back
Finding out the main cause of the problem is important. It is not necessary that the problem always only is an IOS device, the problem can also be in the wifi network. So try to connect your iPhone with other wifi like hotspot or neighbors wifi if it keeps connected then the problem is in your wifi network.
You can also connect another iPhone device to your wifi to check the network. If it keeps connected then the problem may be with your device. If restarting your iPhone does not work properly then try, restarting your wifi router too. As we said earlier Some times issues are not only iPhone-related it might be router-related. So simply restart it by unplugging it from the power source for a while then plugging it back in.
Conclusion
Hopefully, you have fixed the issue with your iPhone and now your iPhone is not disconnecting to wifi randomly. These are the simple and easy ways to keep your iPhone connected to your wifi network. Just give them a try I hope you will find them helpful.