Were you anxiously waiting for some important office call, but missed it because instead of reaching you that call went straight to the voice mail? You can face this unwelcoming situation many times when your iPhone does not play the ringer sound. Consequently, you can miss the call that you were desperately waiting for.
Ahh, Sad! But don't worry, every problem has a solution, and in this article, I will be explaining all decent solutions to your problem. At first, we will be discussing why your iPhone calls go straight to the voice mail, then we will shed light on how to fix this nasty problem.
Why my iPhone call goes Straight to the Voicemail
Your iPhone calls can go straight to the voice mail due to various reasons, but most importantly it could be due to the unavailability of the network services on your iPhone. similarly, when a carrier setting update is available or Do Not Disturb Mode is turned on, your iPhone can directly go to the voicemail.
iPhone Calls Go Straight to Voicemail | How to Fix it
1. Examine Network Strength
The first and foremost thing to do is to examine your network coverage. Most of the time, many problems occur due to weak or no connections. When your iPhone is placed at a distance that is too far away from your network coverage towers.
It can either face the problem of weak connections, or it can lose its connection altogether. Consequently, instead of getting through your iPhone calls may go straight to the voice mail.
2. Airplane Mode
To overcome this problem, turn off and back on Airplane mode on your iPhone, as you can get better signals by doing so.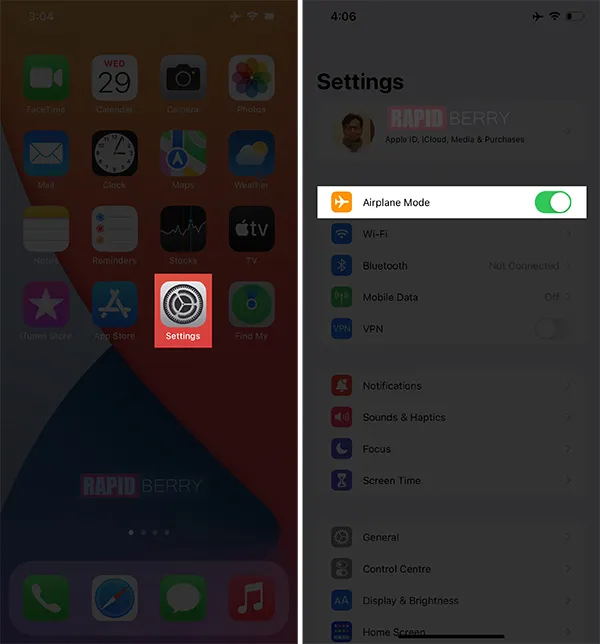 Move to the Settings and tap on the switch next to Airplane mode. This switch will turn green when the Airplane mode is turned on. Now wait for a few minutes, and turn off Airplane mode again by tapping on that same switch. If your problem persists, then repeat this process for few times.
3. Check if Do Not Disturb is Enabled
Another reason why your calls are going to Voicemail can be "Do Not Disturb" mode. When enabled, this setting silents all phone calls, notifications, and alerts. Moreover, this feature also sends all calls to Voicemail.
So, if we turn on Do Not Disturb mode either willingly or accidentally, our iPhone will not play any ringer sound on receiving voice calls or text messages. Therefore, turn off Do Not Disturb mode on your iPhone to fix this problem.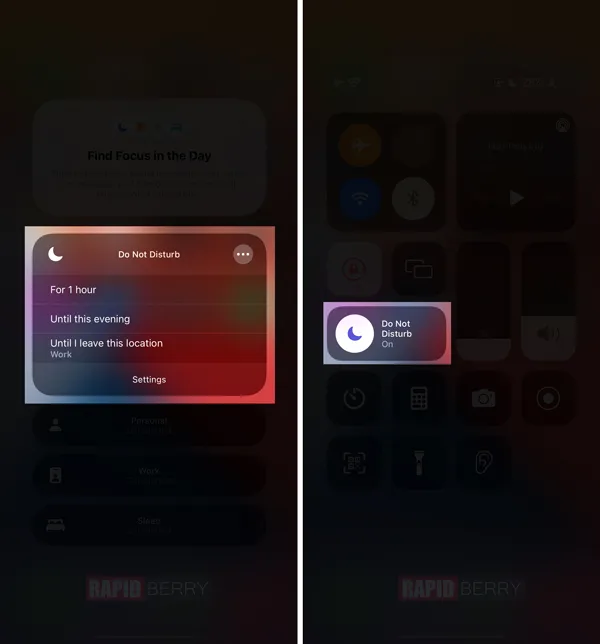 if your iPhone has a face ID: Bring the control center by swiping down from the upper right corner of your screen.
if Your iPhone has a Touch ID: Bring the control center by swiping up from the bottom of the screen.
Now look for the Moon icon and tap on it to disable Do Not Disturb mode.
4. Turn off Silence Unknown Callers
In iOS 13, Apple introduced a new feature that sends calls and other alerts from unknown callers (i.e., those who are not on your contact list) directly to voicemail. Hence make sure this setting is disabled on your iPhone.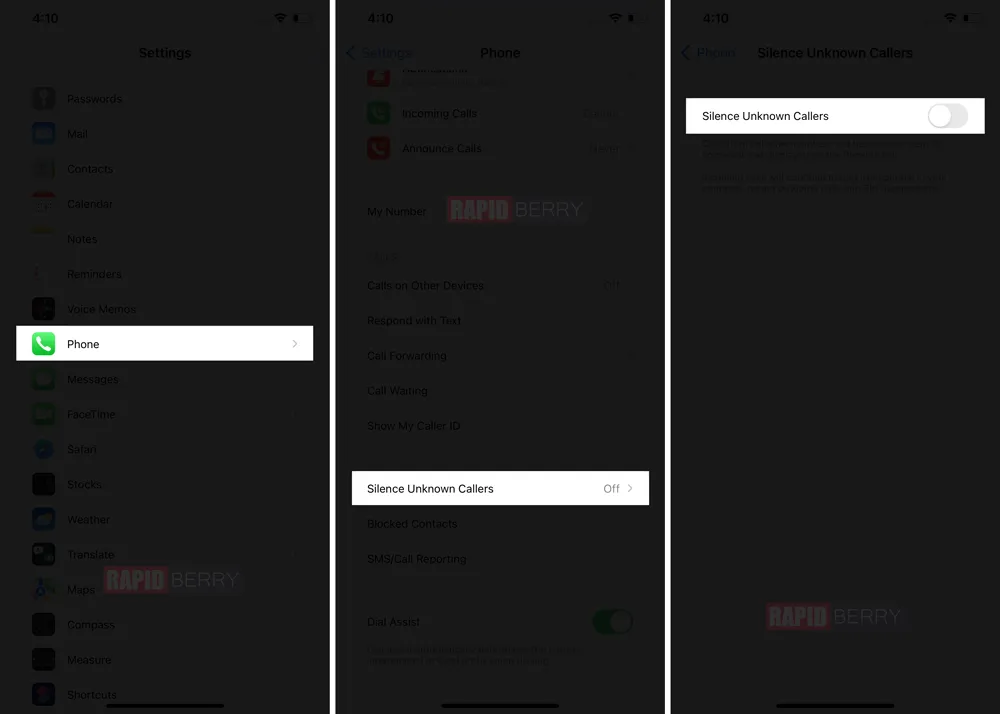 To check this, go to settings and choose Phone. Then, scroll down and click on Silence unknown caller. If its switch is turned on (i.e., in green color), then tap it to toggle off this setting. If you don't want to disable Silence Unknown, then save that unknown contact from which you are expecting a call or message.
5. Check on the Silent mode and maximize the Ringer Volume

Another possibility could be that you turned on silent mode, and had forgotten to turn it off. Consequently, it is continuously causing you to miss phone calls because your iPhone is not playing any sound.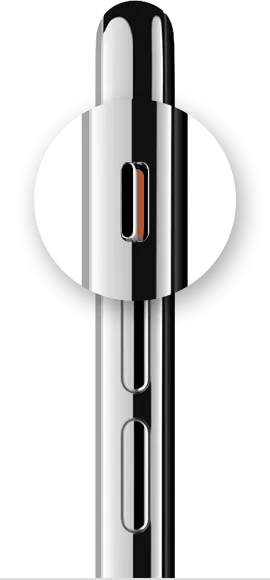 So first of all, check the slider from the side of your iPhone. To turn off Silent Mode, look for the small button on the left side of your iPhone and push it in the upward direction. This will place your iPhone on the Ringer mode, and you will start listing phone calls and other alerts.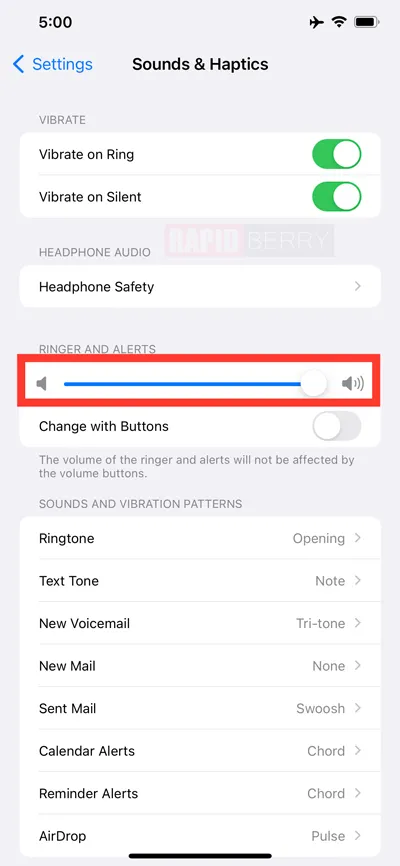 Furthermore, make sure that Ringer volume is maximized on your iPhone. open Settings and go for Sound and Haptics. Now, drag the Ringer and Alerts slider all the way to the right. This way, your iPhone will play the Ringer sounds at the highest volume.
6. Update Carrier Setting
If your calls are directly going to voicemail, then it indicates that you need to update your carrier setting. If your carrier setting is outdated then it may have trouble connecting your carrier's network which could cause your calls directly to go to voicemail.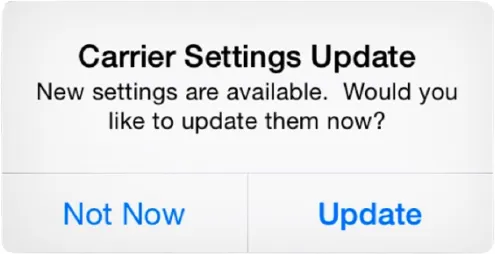 To check the carrier setting update, go to Setting > General > About. If the carrier setting update is available then the alert with the tag of "carrier setting update" will pop up on your display. Click on the update option and update the carrier setting.
7. Restart your iPhone
This is everyone's all-time favorite hack that can solve your nasty issues. Restarting iPhone refreshes your handset and clears bugs. Hence try restarting your iPhone to solve your current problem.
8. Update iOS
Check for your iOS update it should be the latest one otherwise it can be troubling for you and may direct your all-incoming calls straight to voicemail. Back in 2017, iOS 7 users also faced the same problem.
On updating the new software all of their incomings' calls were being shifted to voicemail. Since then, Apple disabled this option by default setting. Therefore, if your problem is raised right after the update, then it might be connected to the update.
Nevertheless, look for new updates, as they always bring solutions to your previous problem and improve your iPhone. here is how to update your iPhone.
9. Repair by Good Shopkeeper
If none of the above methods worked, then it's time to visit some good mechanic to fix your problem. Let their technical skill do magic to your iPhone. This all can be free your iPhone is covered by warranty.
Bottom line
Hopefully, you are now receiving incoming calls. Share this article with your friends who are facing the same problem.