On 14 September 2012, the police of Atlanta, Georgia, arrested two suspects of armed robbery, who robbed five women at gunpoint. Police located criminals with the help of the Find My iPhone App to find one of the stolen iPhones.
After reading examples of this incident, it must be clear that Find My is the holy grail app through which we can get our hands back on our stolen iPhones, air pods, Apple watch, MAC.
If you are an iPhone user, you most probably know about Find My App. Wait! Don't you? Ahh, Sad! But you don't need to worry, for you have just hit the right article. Here I will be telling you everything that you need to know about Find My App and how to use it on your iPhone.
What is the Find My iPhone App?
Find My iPhone is an App designed by an Apple company. This app can tell the remote location of Apple devices: iPhone, Mac computers, Apple Watches, and Apple air pods. So, basically, if someone steals your iPhone or any other Apple device, you are able to track its location using this app or iCloud website.
Find My app is able to do its job even when your iPhone is powered off. It only requires that both your iPhone and tracker device (i.e., Pc or Mac) have the Find My iPhone app installed and location services turned on.
Back in 2019, Apple merged the Find My iPhone App with Find My Friends App and named it Find My. On iOS 8 and earlier, this app was available on the App Store free of cost. While with iOS 9 and later it comes in your iPhone by default settings.
What are the features of the Find My app?
Apart from locating your iPhone, the Find My app has various other interesting features as well. These features are:
View Location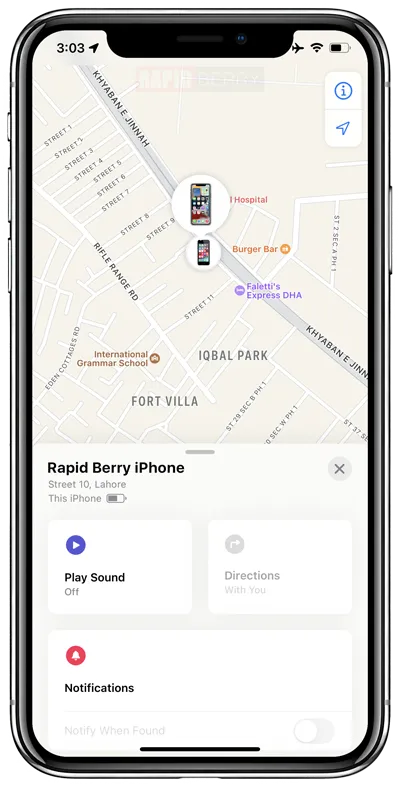 If Find My iPhone is enabled on your iPhone, you can see its location from anywhere. Just go to Find MY app, and tap on devices. Finally, select your iPhone to see its location on the map. You can also see your iPhone's location on PC by logging in iCloud account. Sign in and click on All devices, then choose the device that you want to track.
Play Sound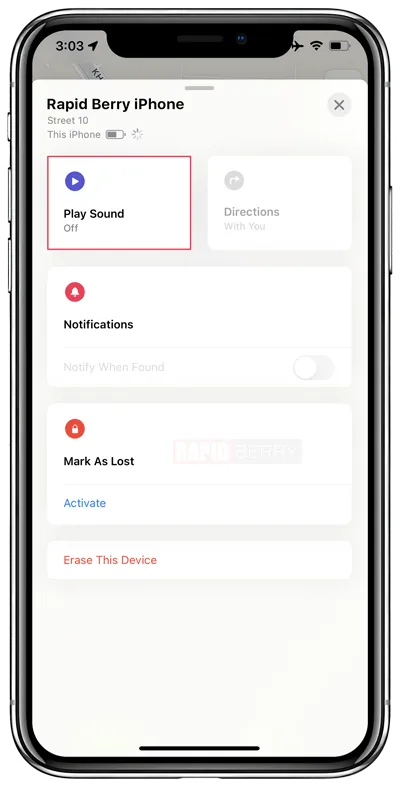 Find My app makes your Apple device play sound at the highest volume, even if it is in silent mode. During this, it also makes flashes on the screen. This feature is helpful when your iPhone is misplaced. Like you can call it, and it will play sound even in silent mode. You need to go to the Find my iPhone app and tap on Devices. Then tap on your desired device and choose to play a sound. Just keep in mind that your device must be online; otherwise, it won't play sound.
Lost Mode
This feature helps to brand your iPhone as lost or stolen, allowing you to lock it with a passcode. It will prevent messages and notifications from displaying on the lock screen. further, if your iPhone is turned off; you will receive an alert when someone will turn it on again.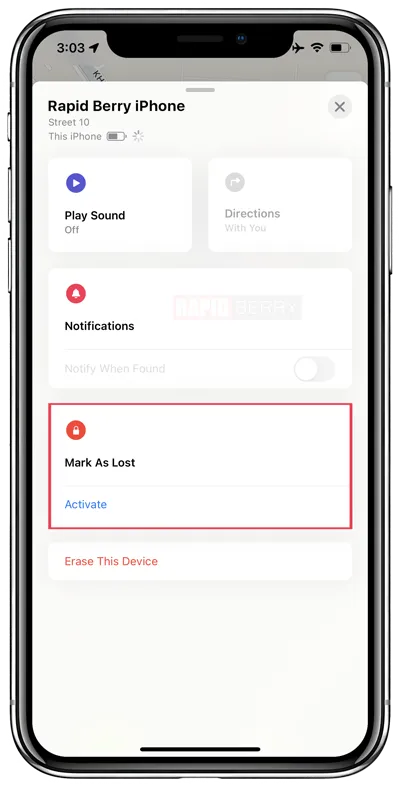 Moreover, with help of this feature, anyone can directly call you if he/she finds your iPhone. once your iPhone is recovered, you will have to enter the passcode that you set when putting your phone in Lost mode.
Erase iPhone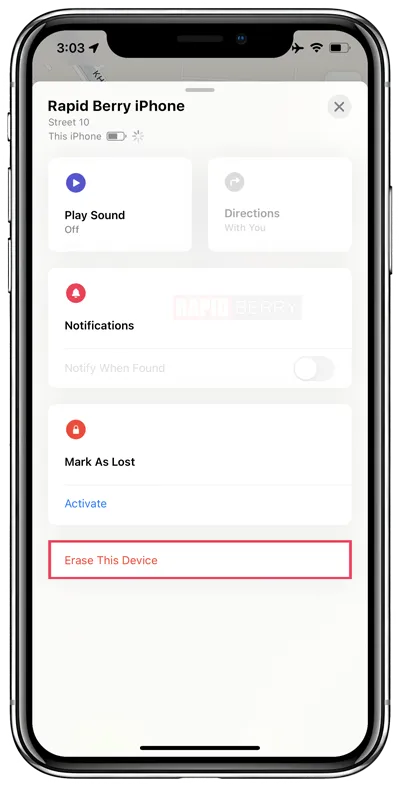 With this feature, you are able to completely erase content and data from your iPhone using iCloud on a PC. You will only require your Apple ID and password. This is especially helpful when your iPhone has sensitive information, and you are unable to track it down with the App. After Erase, lost or stolen messages will still be displayed on your device, and it will be locked. Hence, it will be very difficult for someone to sell out your stolen iPhone in the market.
Remove a Device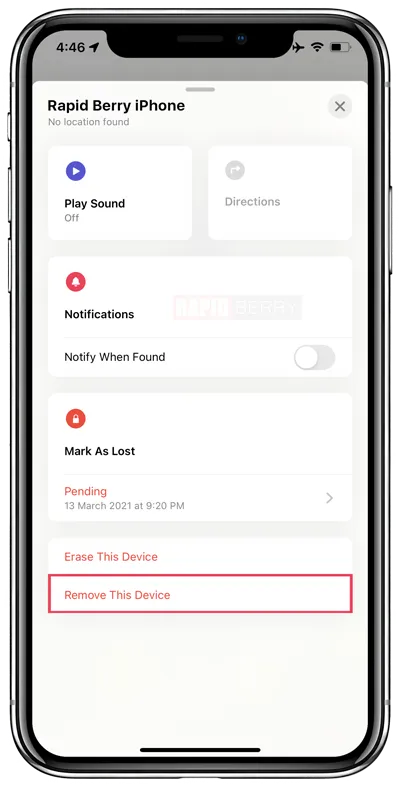 You can remove any device that you want to sell from your list from Find My on iCloud. Power off your device and navigate to the iCloud web. Choose All Devices and tap on a device that you want to remove.
How to Turn on Find My iPhone | Find My iPhone login
Now you have the know-how of the Find My iPhone app, so let's talk about how you can login to Find My on your iPhone.
IMPORTANT!
Firstly, for this app to work, you must have an
iCloud account
. This is the Apple ID that you make to
get access
to your new iPhone. secondly, the tracker device and tracking device must be connected to the same
Apple ID
.
To set up the Find My app on your iPhone follow these steps:
Tap on Setting App

Now, click on Profile


Next, choose to Find My


Enable Share My Location so that your family and friends can see your current location. Nevertheless, you can always choose to disable this option, if you don't want to expose your location.

Now, choose to Find My iPhone, and turn it on.

Also, enable Find My Network so that you can see your iPhone even if it is offline.

Last, enable Send Last Location option, and it will automatically send the location of your iPhone when its battery is low.
Make sure Location Services is turned on so that Find My app can do its job when your iPhone gets lost or stolen.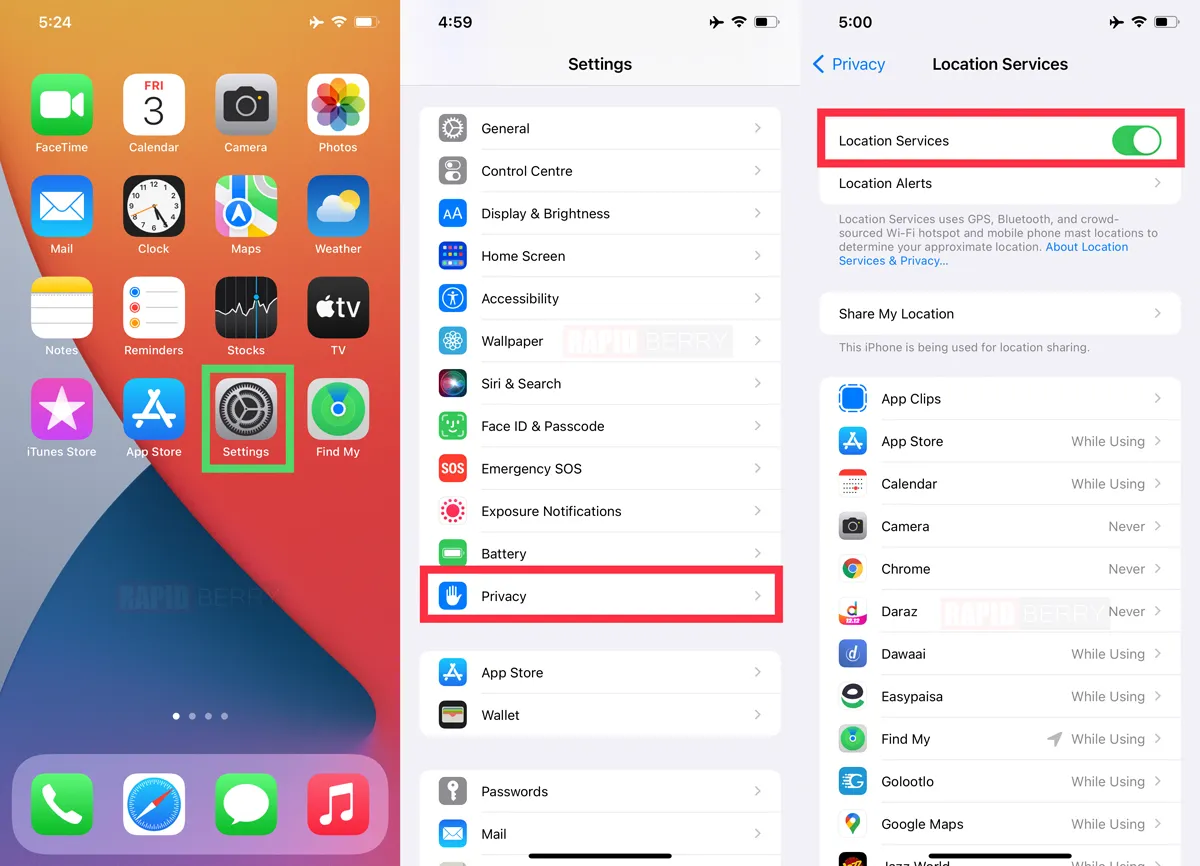 Move to Settings and tap on Privacy. Finally, choose Location services and turn it on.
How to Use Find My on iCloud
You can use Find My on iCloud web to navigate your iPhone's location and much more. All you need is a PC, iCloud account, internet connection, and updated software.  So begin by signing in to your iCloud account:
Go to iCloud website
Sign in by adding your Apple ID and password that you set while setting your iPhone for Find My app.

It's possible that iCloud will ask you to enter a code sent to your iPhone. Hence continue by entering that code. However, if your iPhone is not nearby, click on the Find iPhone icon below Or "get quick access to."
Find My iPhone Last Location
With the Share My Last Location button on Find my iPhone, you are able to keep the path of your iPhone's location even when its battery is critically low.  Follow these steps to enable Share My Last Location:
Head to Settings


Click on your profile picture


Now, choose to Find My


Finally, enable Send Last Location. It will send your location automatically time by time even if the battery is low.

How to Add Friends on Find My iPhone
To add friends, you'll have to use Find My Friends if you are using iOS 12 or older. While if you are using iOS 13 or later, use Find My. By adding friends on Find My, you are able to keep track of their location. Similarly, your friend can see your location.
So, let's start with how to add friends on Find My
Launch Find My App

Tap on People at bottom of your screen.

Now tap on the plus icon (+) in the upper right corner of your screen.

Next, choose to Share My Location.

Finally, add your friends by typing their names or choose from your contact list by clicking on the little plus icon.
Once you choose your friend, tap on Send.
You will see Share for One Hour, Share Until End of Day, Share Indefinitely. Choose your desired option to continue.

How to add friends on Find My Friends
To add friends on Find My Friends, you need to make sure that your friend has the same app installed too.
Start by launching Find My Friends, and tap on Add.
Next, a select friend that you want to add or type their email.
Finally, click on it to send a request to your friend.
Once your friend accepts your request to share their location, you will be able to see their location.
How to Remove a Friends on Find My
If you don't want to share your location with any friend anymore, then remove him/her from the list. Remember, if you remove a person from your list; you will be removed from their list as well. To proceed further, follow these steps:
Head to Find My app, and click on people at the lower-left corner of your screen.
Now, choose the name of the person/friend that you want to eliminate from the list.
Click on Remove(name), and finally tap on Remove.
You can also swipe the name from right to left to delete it.
Bottom line
Find My is a fantastic app that allows you to locate your missing Apple devices and much more. And, hopefully, now you have learned its whereabouts, including its proper use. So, get ready and set up Find app on your iPhone.