There was a time when an iPhone flashlight can be used only with the camera while taking snapshots in night/dark and low light conditions.
So When users realized they could use the flashlight to brighten a dark room, Then smartphone companies decided to workout on using flashlights separately.
Now, flashlights can be used for daily routines like when you came back to your home, and there is no light, so you can turn on your flashlight to light up and open the door lock.
How to Turn off Flashlight on iPhone
So there are three main options for how you can use your smartphone flashlight.
1. Turn off Flashlight Using Control Center
You need to Swipe down from the top of the screen to show the Control Center. (This method only works on iPhone X, XR + Models)For older iPhone models that have a home button Swipe up from the bottom of the screen to show the Control Center.
Now, You can see the flashlight icon in the bottom left corner of the Control Center.
Tap on the flashlight icon to turn it on. (Tap on the flashlight icon again to turn it off.)
To adjust the flashlight's brightness, long press to flashlight icon and swipe Up or Down to dim or brighten the flashlight.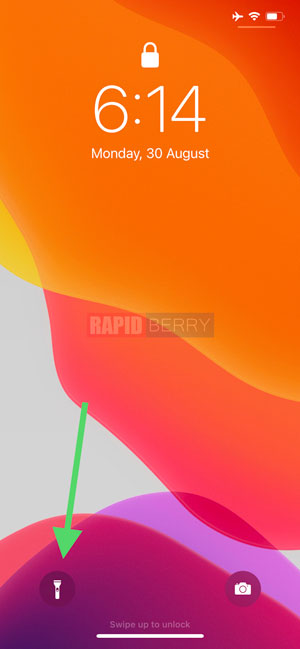 2. Turn on/off Flashlight Using Siri
You can use your Siri to turn on the flashlight by using these commands.
"Hey Siri, turn on my flashlight"
"Hey Siri, will you turn on my flashlight?"
"Hey Siri, turn off my flashlight" (For turn flashlight off)
Note:
If the
"Hey Siri"
method isn't working, turn it on from your iPhone settings. If you don't know how to enable the
"Hey Siri"
option, then check
how to add and enable Siri
.
3. Turn off Flashlight Using Third-Party Apps
There are a lot of third-party apps available for using an iPhone flashlight.
Here are some of the best flashlight apps for the iPhone
1- Best Flash Light! by RV AppStudios
2- Flashlight by iHandy
3- Flashlight by Outer Space
4- Flashlight by Rik
Let us know which method works for you. Also, notify us if you have any problem turning on the flashlight. Finally, please share your valuable thoughts in our comment section.
Cheers 🙂