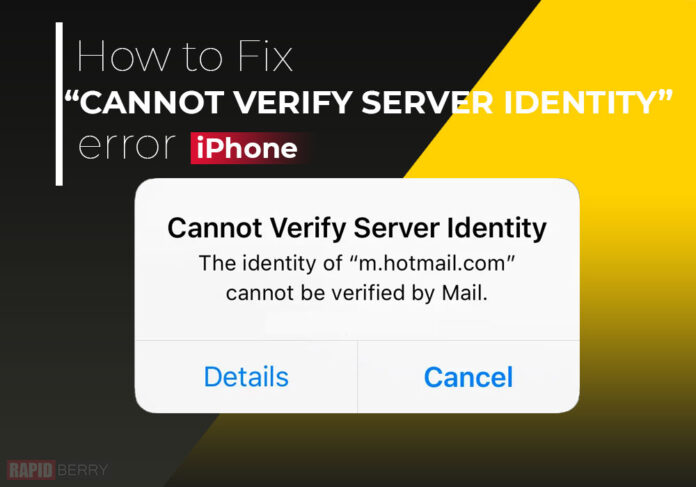 Technology is seeping its way into our lives with smartphones that provide seamless performance. When it comes to such devices, iPhone stands out as the most cherished name. It outshines every brand out there. However, it doesn't mean the iPhone hasn't had a fair share of problems.
There are instances where the iPhone meets bugs too; luckily, the error can be resolved through handy tips and tricks. Sometimes, the error shows up on your iPhone screen saying "Cannot verify server identity," and you want to get it resolved in a jiffy and surf on the internet for solutions.
You must need to get familiar with the problem first; once you understand the issue, you can deal with it accordingly. The main culprit behind this error is either your mail server certificate is fake or expired. Usually, it occurs in models like iPhone 8 and the old ones more frequently as compared to the latest ones.
So, let us walk you through this guide with tried and tested solutions for common iPhone errors.
What Causes Server Identity Error?
You are still confused about what caused the error to happen, right? Don't panic. Let us explain to you why your iPhone reads the mail server certificate as fake. There could be multiple reasons behind it; the most common ones are; the server certificate is replaced by new users, bugs in mail apps, or the provided certificate is not authentic.
Once you know why your iPhone is giving a server identity error, it will be easier to try out appropriate methods to resolve it.  The below-mentioned fixes are simple yet effective for you to perform.
Best Solutions to fix "cannot verify server identity"
Solution #1: Restart /Quit Your Mail App
Oftentimes, the error could be just a random bug by the IOs or App itself. You can easily amend it by just closing and restarting the mail app once. In case you just opened the app on your device, quit and try re-start it again.
For Models like iPhone 8 or SE, the following steps will direct you to rectification:
Double press your home button
You'll see all open Apps now

Go through them and swipe each one of them

All the apps will be closed after swiping.
Try closing all background apps and check if you're still getting this error, then move on to the next solution.
Solution #2: Restart Your iPhone
Another possible solution for rectifying an error saying "cannot verify server identity." If you're worried about how to fix this, you could reset your iPhone. This error occurs most likely when your system has minor software glitches. These glitches can quickly be resolved with a soft reset. Let us tell you the ways of how to do so: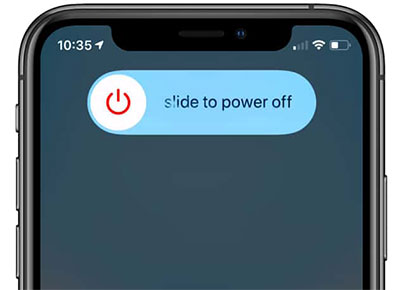 If you own an iPhone X, XS, XS Max, or XR, follow these steps to soft reset:
Press the side button with volume until the power off slider comes up.
Initiate power off by dragging the slider.
Wait for a full power off.
After 30 seconds or so, restart your iPhone back.
If you have models like iPhone 8, 8 plus, or earlier versions, a soft reboot can be done this way:
Hold the side/top side button until you see the power off sign.
Drag the slider and turn off your mobile.
Restart it after a while.
Carrying out a soft reboot by following the above steps won't affect any of your information saved on your mobile's internal storage; hence creating a backup is unnecessary.
Solution #3:  Removing the Email Account and add it again
Presenting another remedy to help you get rid of this recurring error on your IOS device. Try removing the email account and adding it back again. This might help you resolve the issue. If you wish to try this option out, then here's how it's done in easy steps.
Go back to the home screen and locate the settings.
Hover over accounts and passwords.
Plot a route into the accounts option.
Select the email accounts and passwords you want to delete.
Tap on DELETE FROM MY IPHONE to remove your mail account.
Then after deleting your mail account, return to accounts and passwords option in settings.
Navigate to add an account option to make a new mail account on your iPhone.
Select your desirable email service provider.
Enter all your required information properly.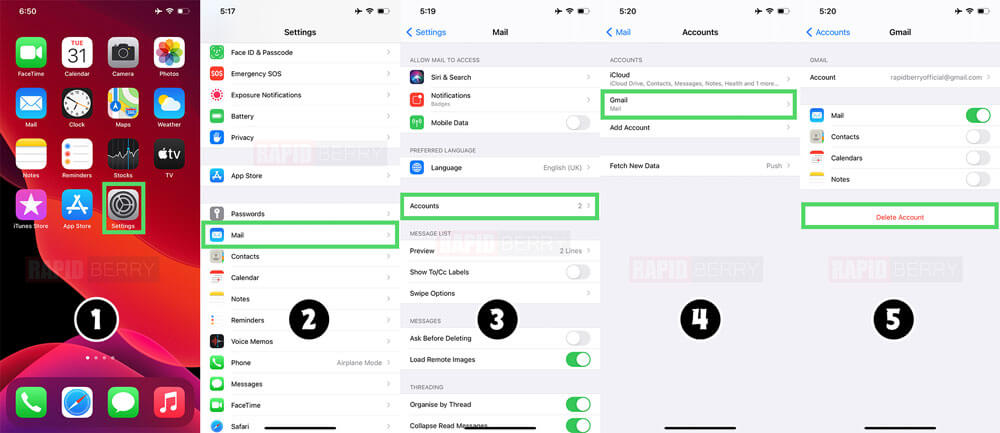 The onscreen step-by-step guide will help you to set up your entire email-removing process. If you're someone who has more than one account on your device, then you should have to do a bit more by removing and recreating each of them.
Solution #4: Update IOS and Carrier Settings
Have you missed an update? Pending updates could be the reason for getting the error. Ignoring updates sometimes results in system bugs and other device issues. For updating your iPhone, follow the instruction stated below and update to a new version of IOS. It will solve many of your device problems. Enough space is required to execute it.
Go to Settings
General settings
Click on the Software Update option
There you'll find out if you've got a pending update or not. Follow the above steps and update your iPhone.
Solution #5: Reset Your Network Settings
This reset option will likely solve the error popping again and again. Clear out your recent network settings and restore the options. Here's how to do fix it:
Tap on the setting option
Go to general
Scroll and find the reset option
Reset your network settings
Enter your phone's passcode if needed
Your phone will automatically reboot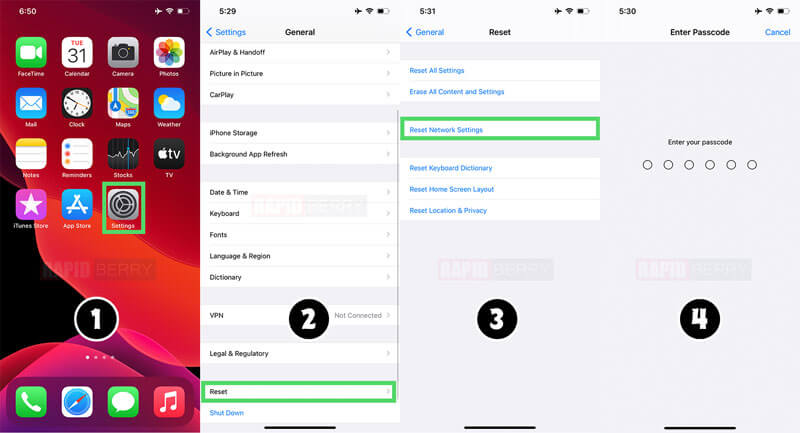 Solution #6: Factory Reset/Master Reset
In case of such complex errors, master reset is one of the best options to go for. Factory reset will erase everything from materials, including deadly errors that might cause problems to your email server. Once you're all set, follow these steps to reset your iPhone.
From the Home screen, click on Settings.
Tap General for further proceedings
Scroll down to and click on Reset.
Choose the option to Erase all content and settings.
If prompted, enter your passcode to proceed.
Then tap the option to confirm system reset on your device.
After resetting your phone, you'll need to set up everything on your iPhone the way you did when you first bought it. Use the start-up wizard for setting. While setting your email account, be sure to give authentic account credentials. Check your device after the process to see if you're facing the issue.
Solution #7: Reinstall Your Outlook/Gmail Server Certificate
Let us help you with another technique to tackle the error. Simply reinstall your outlook ID.
With this error coming, three options are showing, No, yes, and New certificate.
Tap on the new certificate options.
Click on the install.
A new wizard will pop up.
Skip the current user.
Tap on next.
Create a new certificate.
Tap on the finish.
Solution #8: Changing your Phone's SSL Settings
This tip works like wonders when you cannot verify server identity on iPhone. This technique will help you remove the error. But, sending emails on a secure non-platform could be threatening.
Go to settings and find Accounts and Passwords.
Click on the mail app you think is causing the issue.
Tap on the registered account.
Move to advanced settings and disable your SLL feature.
Conclusion
Sometimes your work goes chaotic if you see an unusual error that is disturbing your phone. In situations like these, you don't need to panic. The cannot verify server identity is nothing serious. You can resolve it by making minor changes like reboots and setting changes.
The above Solutions will help you solve it within minutes. If you follow the steps correctly, the error will go away. However, if nothing seems to work for you, you can factory reset your iPhone. Before performing a factory reset, make sure to save your data.
After completion, you'll have to set up your phone once again. It may take some time but will remove the error.
Next time if you face the same error emerging on your phone, you'll know what to do exactly to get rid of it. Don't forget to share the article on the internet, and feel free to leave a comment below if you've any queries.